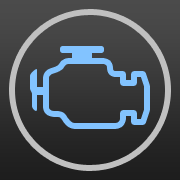 OBD Fusion® is an app for iPhone, iPad, iPod Touch, and Android that allows you to read diagnostic data from your vehicle. You can create virtual dashboards showing multiple vehicle sensors, estimate fuel economy, read diagnostic trouble codes, and turn off your check engine light. OBD Fusion is one of the best selling apps on the market, and once you try it, we know you'll love it!
Modern vehicles have dozens of computers that monitor everything from engine speed to how much fuel is in your gas tank. There's tons of information available in your vehicle's computer systems, but most of it is not displayed on the vehicle dashboard. With OBD Fusion, you can access a whole new world of information about your vehicle directly on your phone or tablet.
If you're new to OBD Fusion or are looking for additional tips, checkout these useful videos.
---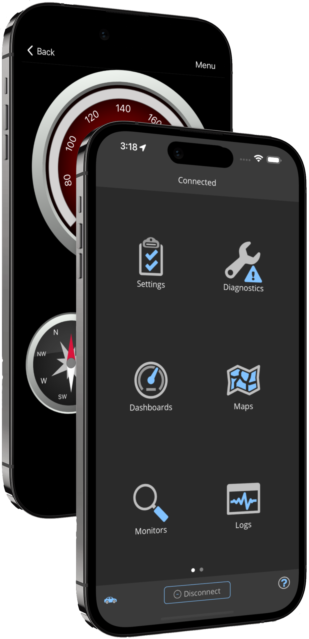 OBD Fusion is straightforward and simple to use. It's easy to connect to your vehicle and quickly access vital information. Here's a quick overview of the features in OBD Fusion.
Settings are available directly in OBD Fusion. You can easily change adapter configurations, create your own PIDs, and edit your vehicle information.
Diagnostics provides access trouble codes, freeze frame data, live PID data, and a full diagnostic report that you can save and send to your mechanic.
Dashboards are fully customizable. You can create you own dashboard layouts, selecting the PIDs that you want to see. You can also fully style the gauges, or use the built-in templates for quickly changing styles.
Maps displays your route on a live map. You can select a parameter such as vehicle speed or fuel economy, and display a color coded path based on the value of that parameter. When offline, you can find where you parked your car and get walking directions.
Monitors shows you whether your vehicle is ready for emissions testing. In addition, you can view oxygen sensor test results, Mode $06 data, and vehicle information such as the VIN and calibration IDs.
Logs allows you to graph live data. You can graph up to four parameters in real-time! You can also access all of your logged CSV files, and open the files in Maps or upload the files to Dropbox.
---
---
"Highly recommended! If I could rate this app with six stars I would not hesitate to do so! I don't often rate apps, but this one truly deserves to get an excellent rating! If I had not read the reviews for this app, I would have purchased the App recommended by the manufacturer of the OBD scanner I bought. I am most definitely impressed with this app and think it is worth every penny of its price and some! ☆ ☆ ☆ ☆ ☆ ☆ Yes that's six stars! Truly an Excellent App!"
grumpyolddad
"I recently purchased this app along with an ELM 327 wifi scan tool and I am more than happy with what I got for a combined price of $28 (app $10 tool $18 on amazon). It paired easily with the ELM 327 and in no time I was reading and clearing codes on my Pontiac G6, Saturn SL1 and Audi A6. I'm still learning how to use the other functions but this app has already paid for itself in troubleshooting a cat emissions problem in finding that the front O2 sensor on my Audi was reading 0.0 (bad). I also love that I can use this app with either my iPhone 5 or iPad Air. This is a must have app for car owners who do their own work!"
Gruvedaddy
---
Devices
OBD Fusion for iOS works on iPhone, iPad, and iPod Touch devices running iOS 7 and later.
OBD Fusion for Android works on Android devices running Android 4.0.3 and later.
OBD Adapters for iOS
OBD Fusion for iOS works with the following adapters as well as many others
Generic ELM327 Bluetooth adapters are not compatible with OBD Fusion for iOS. This is a limitiation of iOS, not OBD Fusion.
OBD Adapters for Android
OBD Fusion for Android works with the following adapters as well as many others
As an Amazon Associate we earn from qualifying purchases.
See our list of adapters with descriptions and suggestions on our
scan tools
page.
If you're not sure whether your vehicle, device, or adapter is supported, please contact us.
---
OBD Fusion supports enhanced diagnostics on Ford, Lincoln, Mercury, Mazda, Toyota, Lexus, Scion, Nissan, Infiniti, Dodge, RAM, Chrysler, Jeep, and some FIAT and Alfa Romeo vehicles. Enhanced diagnostics provide access to additional modules such as ABS, Airbag, Transmission, 4x4, and Body Control allowing you to read and clear fault codes and access hundreds of additional parameters that are not available over standard OBD2. Enhanced diagnostics are available through an In-App Purchase in OBD Fusion.
---
OBD Fusion supports the following SAE Parameter IDs. Your OBD2 compliant vehicle most likely supports a subset of the following PIDs, depending on the year, make and model of the vehicle.
| PID | Description |
| --- | --- |
| 0x00 | Supported PIDs 0x01 to 0x1F |
| 0x01 | I/M Readiness Data |
| 0x02 | Freeze frame DTC |
| 0x03 | Fuel system 1 status |
| 0x03.1 | Fuel system 2 status |
| 0x04 | Calculated load value |
| 0x05 | Engine coolant temperature |
| 0x06 | Short term fuel % trim - Bank 1 |
| 0x06.1 | Short term fuel % trim - Bank 3 |
| 0x07 | Long term fuel % trim - Bank 1 |
| 0x07.1 | Long term fuel % trim - Bank 3 |
| 0x08 | Short term fuel % trim - Bank 2 |
| 0x08.1 | Short term fuel % trim - Bank 4 |
| 0x09 | Long term fuel % trim - Bank 2 |
| 0x09.1 | Long term fuel % trim - Bank 4 |
| 0x0A | Fuel rail pressure (gauge) |
| 0x0B | Intake manifold absolute pressure |
| 0x0C | Engine RPM |
| 0x0D | Vehicle speed |
| 0x0E | Ignition timing advance for #1 cylinder |
| 0x0F | Intake air temperature |
| 0x10 | Mass air flow rate |
| 0x11 | Absolute throttle position |
| 0x12 | Commanded secondary air status |
| 0x13 | Location of oxygen sensors |
| 0x14 | O2 voltage (Bank 1, Sensor 1) |
| 0x14.1 | Short term fuel trim (Bank 1, Sensor 1) |
| 0x15 | O2 voltage (Bank 1, Sensor 2) |
| 0x15.1 | Short term fuel trim (Bank 1, Sensor 2) |
| 0x16 | O2 voltage (Bank 1, Sensor 3) |
| 0x16.1 | Short term fuel trim (Bank 1, Sensor 3) |
| 0x17 | O2 voltage (Bank 1, Sensor 4) |
| 0x17.1 | Short term fuel trim (Bank 1, Sensor 4) |
| 0x18 | O2 voltage (Bank 2, Sensor 1) |
| 0x18.1 | Short term fuel trim (Bank 2, Sensor 1) |
| 0x19 | O2 voltage (Bank 2, Sensor 2) |
| 0x19.1 | Short term fuel trim (Bank 2, Sensor 2) |
| 0x1A | O2 voltage (Bank 2, Sensor 3) |
| 0x1A.1 | Short term fuel trim (Bank 2, Sensor 3) |
| 0x1B | O2 voltage (Bank 2, Sensor 4) |
| 0x1B.1 | Short term fuel trim (Bank 2, Sensor 4) |
| 0x1C | OBD requirements to which vehicle or engine is certified |
| 0x1D | Location of oxygen sensors |
| 0x1E | Auxiliary input status |
| 0x1F | Time since engine start |
| 0x20 | Supported PIDs 0x21 to 0x3F |
| 0x21 | Distance traveled while MIL is activated |
| 0x22 | Fuel rail pressure relative to manifold vacuum |
| 0x23 | Fuel rail pressure |
| 0x24 | O2 sensor lambda (Bank 1, Sensor 1) |
| 0x24.1 | O2 sensor voltage wide range (Bank 1, Sensor 1) |
| 0x25 | O2 sensor lambda (Bank 1, Sensor 2) |
| 0x25.1 | O2 sensor voltage wide range (Bank 1, Sensor 2) |
| 0x26 | O2 sensor lambda (Bank 1, Sensor 3) |
| 0x26.1 | O2 sensor voltage wide range (Bank 1, Sensor 3) |
| 0x27 | O2 sensor lambda (Bank 1, Sensor 4) |
| 0x27.1 | O2 sensor voltage wide range (Bank 1, Sensor 4) |
| 0x28 | O2 sensor lambda (Bank 2, Sensor 1) |
| 0x28.1 | O2 sensor voltage wide range (Bank 2, Sensor 1) |
| 0x29 | O2 sensor lambda (Bank 2, Sensor 2) |
| 0x29.1 | O2 sensor voltage wide range (Bank 2, Sensor 2) |
| 0x2A | O2 sensor lambda (Bank 2, Sensor 3) |
| 0x2A.1 | O2 sensor voltage wide range (Bank 2, Sensor 3) |
| 0x2B | O2 sensor lambda (Bank 2, Sensor 4) |
| 0x2B.1 | O2 sensor voltage wide range (Bank 2, Sensor 4) |
| 0x2C | Commanded EGR |
| 0x2D | EGR error |
| 0x2E | Commanded evaporative purge |
| 0x2F | Fuel level input |
| 0x30 | Number of warm-ups since DTCs cleared |
| 0x31 | Distance traveled since DTCs cleared |
| 0x32 | Evap system vapor pressure |
| 0x33 | Barometric pressure |
| 0x34 | O2 sensor lambda wide range (current probe) (Bank 1, Sensor 1) |
| 0x34.1 | O2 sensor current wide range (Bank 1, Sensor 1) |
| 0x35 | O2 sensor lambda wide range (current probe) (Bank 1, Sensor 2) |
| 0x35.1 | O2 sensor current wide range (Bank 1, Sensor 2) |
| 0x36 | O2 sensor lambda wide range (current probe) (Bank 1, Sensor 3) |
| 0x36.1 | O2 sensor current wide range (Bank 1, Sensor 3) |
| 0x37 | O2 sensor lambda wide range (current probe) (Bank 1, Sensor 4) |
| 0x37.1 | O2 sensor current wide range (Bank 1, Sensor 4) |
| 0x38 | O2 sensor lambda wide range (current probe) (Bank 2, Sensor 1) |
| 0x38.1 | O2 sensor current wide range (Bank 2, Sensor 1) |
| 0x39 | O2 sensor lambda wide range (current probe) (Bank 2, Sensor 2) |
| 0x39.1 | O2 sensor current wide range (Bank 2, Sensor 2) |
| 0x3A | O2 sensor lambda wide range (current probe) (Bank 2, Sensor 3) |
| 0x3A.1 | O2 sensor current wide range (Bank 2, Sensor 3) |
| 0x3B | O2 sensor lambda wide range (current probe) (Bank 2, Sensor 4) |
| 0x3B.1 | O2 sensor current wide range (Bank 2, Sensor 4) |
| 0x3C | Catalyst temperature (Bank 1 Sensor 1) |
| 0x3D | Catalyst temperature (Bank 2 Sensor 1) |
| 0x3E | Catalyst temperature (Bank 1 Sensor 2) |
| 0x3F | Catalyst temperature (Bank 2 Sensor 2) |
| 0x40 | Supported PIDs 0x41 to 0x5F |
| 0x41 | Monitor status this driving cycle |
| 0x42 | Control module voltage |
| 0x43 | Absolute load value |
| 0x44 | Fuel/Air commanded equivalence ratio |
| 0x45 | Relative throttle position |
| 0x46 | Ambient air temperature |
| 0x47 | Absolute throttle position B |
| 0x48 | Absolute throttle position C |
| 0x49 | Accelerator pedal position D |
| 0x4A | Accelerator pedal position E |
| 0x4B | Accelerator pedal position F |
| 0x4C | Commanded throttle actuator control |
| 0x4D | Engine run time run while MIL is activated |
| 0x4E | Engine run time since DTCs cleared |
| 0x51 | Fuel type |
| 0x52 | Alcohol fuel percentage |
| 0x53 | Absolute evap system vapor pressure |
| 0x54 | Evap system vapor pressure |
| 0x55 | Short term secondary oxygen sensor trim bank 1 |
| 0x55.1 | Short term secondary oxygen sensor trim bank 3 |
| 0x56 | Long term secondary oxygen sensor trim bank 1 |
| 0x56.1 | Long term secondary oxygen sensor trim bank 3 |
| 0x57 | Short term secondary oxygen sensor trim bank 2 |
| 0x57.1 | Short term secondary oxygen sensor trim bank 4 |
| 0x58 | Long term secondary oxygen sensor trim bank 2 |
| 0x58.1 | Long term secondary oxygen sensor trim bank 4 |
| 0x59 | Fuel rail pressure (absolute) |
| 0x5A | Relative accelerator pedal position |
| 0x5B | Hybrid battery pack remaining charge |
| 0x5C | Engine oil temperature |
| 0x5D | Fuel injection timing |
| 0x5E | Engine fuel rate |
| 0x5F | Emission requirements to which vehicle is designed |
| 0x60 | Supported PIDs 0x61 to 0x7F |
| 0x61 | Driver's demand engine - percent torque |
| 0x62 | Actual engine - percent torque |
| 0x63 | Engine reference torque |
| 0x64 | Engine percent torque at idle |
| 0x64.1 | Engine percent torque at point 2 |
| 0x64.2 | Engine percent torque at point 3 |
| 0x64.3 | Engine percent torque at point 4 |
| 0x64.4 | Engine percent torque at point 5 |
| 0x65.1 | Power Take Off (PTO) Output Status |
| 0x65.2 | Auto Trans Neutral Drive Status |
| 0x65.3 | Manual Trans Neutral Gear Status |
| 0x65.4 | Glow Plug Lamp Output Status |
| 0x65.5 | Recommended transmission gear for current vehicle conditions |
| 0x66.1 | Mass air flow sensor A |
| 0x66.2 | Mass air flow sensor B |
| 0x67.1 | Engine coolant temperature 1 |
| 0x67.2 | Engine coolant temperature 2 |
| 0x68.1 | Intake air temperature bank 1, sensor 1 |
| 0x68.2 | Intake air temperature bank 1, sensor 2 |
| 0x68.3 | Intake air temperature bank 1, sensor 3 |
| 0x68.4 | Intake air temperature bank 2, sensor 1 |
| 0x68.5 | Intake air temperature bank 2, sensor 2 |
| 0x68.6 | Intake air temperature bank 2, sensor 3 |
| 0x69.1 | Commanded EGR A duty cycle/position |
| 0x69.2 | Actual EGR A duty cycle/position |
| 0x69.3 | EGR A error |
| 0x69.4 | Commanded EGR B duty cycle/position |
| 0x69.5 | Actual EGR B duty cycle/position |
| 0x69.6 | EGR B error |
| 0x6A.1 | Commanded intake air flow A control |
| 0x6A.2 | Relative intake air flow A position |
| 0x6A.3 | Commanded intake air flow B control |
| 0x6A.4 | Relative intake air flow B position |
| 0x6B.1 | Exhaust gas recirculation temp sensor A (Bank 1 Sensor 1) |
| 0x6B.2 | Exhaust gas recirculation temp sensor C (Bank 1 Sensor 2) |
| 0x6B.3 | Exhaust gas recirculation temp sensor B (Bank 2 Sensor 1) |
| 0x6B.4 | Exhaust gas recirculation temp sensor D (Bank 2 Sensor 2) |
| 0x6C.1 | Commanded throttle actuator A control |
| 0x6C.2 | Relative throttle A position |
| 0x6C.3 | Commanded throttle actuator B control |
| 0x6C.4 | Relative throttle B position |
| 0x6D.1 | Commanded fuel rail pressure A |
| 0x6D.2 | Fuel rail pressure A |
| 0x6D.3 | Fuel rail temperature A |
| 0x6D.4 | Commanded fuel rail pressure B |
| 0x6D.5 | Fuel rail pressure B |
| 0x6D.6 | Fuel rail temperature B |
| 0x6E.1 | Commanded injection control pressure A |
| 0x6E.2 | Injection control pressure A |
| 0x6E.3 | Commanded injection control pressure B |
| 0x6E.4 | Injection control pressure B |
| 0x6F.1 | Turbocharger compressor inlet pressure sensor A |
| 0x6F.2 | Turbocharger compressor inlet pressure sensor B |
| 0x70.1 | Commanded boost pressure A |
| 0x70.2 | Boost pressure sensor A |
| 0x70.3 | Commanded boost pressure B |
| 0x70.4 | Boost pressure sensor B |
| 0x70.5 | Boost pressure A control status |
| 0x70.6 | Boost pressure B control status |
| 0x71.1 | Commanded variable geometry turbo A position |
| 0x71.2 | Variable geometry turbo A position |
| 0x71.3 | Commanded variable geometry turbo B position |
| 0x71.4 | Variable geometry turbo B position |
| 0x71.5 | VGT A control status |
| 0x71.6 | VGT B control status |
| 0x72.1 | Commanded wastegate A position |
| 0x72.2 | Wastegate A position |
| 0x72.3 | Commanded wastegate B position |
| 0x72.4 | Wastegate B position |
| 0x73.1 | Exhaust pressure sensor bank 1, sensor 1 |
| 0x73.2 | Exhaust pressure sensor bank 2, sensor 1 |
| 0x74.1 | Turbocharger A RPM |
| 0x74.2 | Turbocharger B RPM |
| 0x75.1 | Turbocharger A compressor inlet temperature |
| 0x75.2 | Turbocharger A compressor outlet temperature |
| 0x75.3 | Turbocharger A turbine inlet temperature |
| 0x75.4 | Turbocharger A turbine outlet temperature |
| 0x76.1 | Turbocharger B compressor inlet temperature |
| 0x76.2 | Turbocharger B compressor outlet temperature |
| 0x76.3 | Turbocharger B turbine inlet temperature |
| 0x76.4 | Turbocharger B turbine outlet temperature |
| 0x77.1 | Charge air cooler temperature bank 1, sensor 1 |
| 0x77.2 | Charge air cooler temperature bank 1, sensor 2 |
| 0x77.3 | Charge air cooler temperature bank 2, sensor 1 |
| 0x77.4 | Charge air cooler temperature bank 2, sensor 2 |
| 0x78.1 | Exhaust gas temperature bank 1, sensor 1 |
| 0x78.2 | Exhaust gas temperature bank 1, sensor 2 |
| 0x78.3 | Exhaust gas temperature bank 1, sensor 3 |
| 0x78.4 | Exhaust gas temperature bank 1, sensor 4 |
| 0x79.1 | Exhaust gas temperature bank 2, sensor 1 |
| 0x79.2 | Exhaust gas temperature bank 2, sensor 2 |
| 0x79.3 | Exhaust gas temperature bank 2, sensor 3 |
| 0x79.4 | Exhaust gas temperature bank 2, sensor 4 |
| 0x7A.1 | DPF bank 1 delta pressure |
| 0x7A.2 | DPF bank 1 inlet pressure |
| 0x7A.3 | DPF bank 1 outlet pressure |
| 0x7B.1 | DPF bank 2 delta pressure |
| 0x7B.2 | DPF bank 2 inlet pressure |
| 0x7B.3 | DPF bank 2 outlet pressure |
| 0x7C.1 | DPF bank 1 inlet temperature sensor |
| 0x7C.2 | DPF bank 1 outlet temperature sensor |
| 0x7C.3 | DPF bank 2 inlet temperature sensor |
| 0x7C.4 | DPF bank 2 outlet temperature sensor |
| 0x7D | NOx NTE control area status |
| 0x7E | PM NTE control area status |
| 0x7F.1 | Total engine run time |
| 0x7F.2 | Total idle run time |
| 0x7F.3 | Total run time with PTO active |
| 0x80 | Supported PIDs 0x81 to 0x9F |
| 0x81.1 | Total run time with EI-AECD #1 Timer 1 active |
| 0x81.2 | Total run time with EI-AECD #1 Timer 2 active |
| 0x81.3 | Total run time with EI-AECD #2 Timer 1 active |
| 0x81.4 | Total run time with EI-AECD #2 Timer 2 active |
| 0x81.5 | Total run time with EI-AECD #3 Timer 1 active |
| 0x81.6 | Total run time with EI-AECD #3 Timer 2 active |
| 0x81.7 | Total run time with EI-AECD #4 Timer 1 active |
| 0x81.8 | Total run time with EI-AECD #4 Timer 2 active |
| 0x81.9 | Total run time with EI-AECD #5 Timer 1 active |
| 0x81.10 | Total run time with EI-AECD #5 Timer 2 active |
| 0x82.1 | Total run time with EI-AECD #6 Timer 1 active |
| 0x82.2 | Total run time with EI-AECD #6 Timer 2 active |
| 0x82.3 | Total run time with EI-AECD #7 Timer 1 active |
| 0x82.4 | Total run time with EI-AECD #7 Timer 2 active |
| 0x82.5 | Total run time with EI-AECD #8 Timer 1 active |
| 0x82.6 | Total run time with EI-AECD #8 Timer 2 active |
| 0x82.7 | Total run time with EI-AECD #9 Timer 1 active |
| 0x82.8 | Total run time with EI-AECD #9 Timer 2 active |
| 0x82.9 | Total run time with EI-AECD #10 Timer 1 active |
| 0x82.10 | Total run time with EI-AECD #10 Timer 2 active |
| 0x83.1 | NOx sensor concentration bank 1 sensor 1 |
| 0x83.2 | NOx sensor concentration bank 1 sensor 2 |
| 0x83.3 | NOx sensor concentration bank 2 sensor 1 |
| 0x83.4 | NOx sensor concentration bank 2 sensor 2 |
| 0x84 | Manifold surface temperature |
| 0x85.1 | Average NOx reagent consumption |
| 0x85.2 | Average demanded NOx reagent consumption |
| 0x85.3 | NOx reagent tank level |
| 0x85.4 | Total engine run time while NOx warning mode is activated |
| 0x86.1 | PM sensor mass concentration bank 1 sensor 1 |
| 0x86.2 | PM sensor mass concentration bank 2 sensor 1 |
| 0x87.1 | Intake manifold absolute pressure A |
| 0x87.2 | Intake manifold absolute pressure B |
| 0x88 | SCR inducement system actual state |
| 0x88.1 | SCR inducement system state 10K history (0 - 10,000 km) |
| 0x88.2 | SCR inducement system state 20K history (10,000 - 20,000 km) |
| 0x88.3 | SCR inducement system state 30K history (20,000 - 30,000 km) |
| 0x88.4 | SCR inducement system state 40K history (30,000 - 40,000 km) |
| 0x88.5 | Distance travelled while SCR inducement system active in current 10K block (0 - 10,000 km) |
| 0x88.6 | Distance travelled in current SCR 10K block (0 - 10,000 km) |
| 0x88.7 | Distance travelled while SCR inducement system active in current 20K block (10,000 - 20,000 km) |
| 0x88.8 | Distance travelled while SCR inducement system active in current 30K block (20,000 - 30,000 km) |
| 0x88.9 | Distance travelled while SCR inducement system active in current 40K block (30,000 - 40,000 km) |
| 0x89.1 | Total run time with EI-AECD #11 Timer 1 active |
| 0x89.2 | Total run time with EI-AECD #11 Timer 2 active |
| 0x89.3 | Total run time with EI-AECD #12 Timer 1 active |
| 0x89.4 | Total run time with EI-AECD #12 Timer 2 active |
| 0x89.5 | Total run time with EI-AECD #13 Timer 1 active |
| 0x89.6 | Total run time with EI-AECD #13 Timer 2 active |
| 0x89.7 | Total run time with EI-AECD #14 Timer 1 active |
| 0x89.8 | Total run time with EI-AECD #14 Timer 2 active |
| 0x89.9 | Total run time with EI-AECD #15 Timer 1 active |
| 0x89.10 | Total run time with EI-AECD #15 Timer 2 active |
| 0x8A.1 | Total run time with EI-AECD #16 Timer 1 active |
| 0x8A.2 | Total run time with EI-AECD #16 Timer 2 active |
| 0x8A.3 | Total run time with EI-AECD #17 Timer 1 active |
| 0x8A.4 | Total run time with EI-AECD #17 Timer 2 active |
| 0x8A.5 | Total run time with EI-AECD #18 Timer 1 active |
| 0x8A.6 | Total run time with EI-AECD #18 Timer 2 active |
| 0x8A.7 | Total run time with EI-AECD #19 Timer 1 active |
| 0x8A.8 | Total run time with EI-AECD #19 Timer 2 active |
| 0x8A.9 | Total run time with EI-AECD #20 Timer 1 active |
| 0x8A.10 | Total run time with EI-AECD #20 Timer 2 active |
| 0x8B.1 | Diesel aftertreatment status |
| 0x8B.2 | DPF regen status |
| 0x8B.3 | DPF regen type |
| 0x8B.4 | NOx adsorber regen status |
| 0x8B.5 | NOx adsorber desulfurization status |
| 0x8B.6 | Normalized trigger for DPF regen |
| 0x8B.7 | Average time between DPF regens |
| 0x8B.8 | Average distance between DPF regens |
| 0x8C.1 | O2 sensor concentration bank 1 sensor 1 |
| 0x8C.2 | O2 sensor concentration bank 1 sensor 2 |
| 0x8C.3 | O2 sensor concentration bank 2 sensor 1 |
| 0x8C.4 | O2 sensor concentration bank 2 sensor 2 |
| 0x8C.5 | O2 sensor lambda bank 1 sensor 1 |
| 0x8C.6 | O2 sensor lambda bank 1 sensor 2 |
| 0x8C.7 | O2 sensor lambda bank 2 sensor 1 |
| 0x8C.8 | O2 sensor lambda bank 2 sensor 2 |
| 0x8D | Absolute throttle position G |
| 0x8E | Engine friction - percent torque |
| 0x8F.1 | PM sensor operating status bank 1 sensor 1 |
| 0x8F.2 | PM sensor active status bank 1 sensor 1 |
| 0x8F.3 | PM sensor regen status bank 1 sensor 1 |
| 0x8F.4 | PM sensor normalized output value bank 1 sensor 1 |
| 0x8F.5 | PM sensor operating status bank 2 sensor 1 |
| 0x8F.6 | PM sensor active status bank 2 sensor 1 |
| 0x8F.7 | PM sensor regen status bank 2 sensor 1 |
| 0x8F.8 | PM sensor normalized output value bank 2 sensor 1 |
| 0x90 | WWH-OBD discriminatory/nondiscriminatory display strategy |
| 0x90.1 | WWH-OBD vehicle malfunction indicator status |
| 0x90.2 | WWH-OBD emission system readiness |
| 0x90.3 | WWH-OBD Number of engine operating hours that the continuous MI was active. (Continuous MI counter) |
| 0x91 | WWH-OBD ECU malfunction indication status |
| 0x91.1 | WWH-OBD ECU Number of engine operating hours that the continuous MI was active. (Continuous MI counter) |
| 0x91.2 | WWH-OBD ECU highest ECU B1 counter |
| 0x92.1 | Fuel Pressure Control 1 Status |
| 0x92.2 | Fuel Injection Quantity Control 1 Status |
| 0x92.3 | Fuel Injection Timing Control 1 Status |
| 0x92.4 | Idle Fuel Balance/Contribution Control 1 Status |
| 0x92.5 | Fuel Pressure Control 2 Status |
| 0x92.6 | Fuel Injection Quantity Control 2 Status |
| 0x92.7 | Fuel Injection Timing Control 2 Status |
| 0x92.8 | Idle Fuel Balance/Contribution Control 2 Status |
| 0x93.1 | WWH-OBD vehicle cumulative continuous MI counter |
| 0x94.1 | NOx warning and inducement system status |
| 0x94.2 | NOx system reagent quality counter |
| 0x94.3 | NOx system reagent consumption counter |
| 0x94.4 | NOx system dosing activity counter |
| 0x94.5 | NOx system EGR valve counter |
| 0x94.6 | NOx system monitoring system counter |
| 0x95.1 | Target SCR Catalyst NH3 Storage A |
| 0x95.2 | Actual/Modelled SCR Catalyst NH3 Storage A |
| 0x95.3 | Target SCR Catalyst NH3 Storage B |
| 0x95.4 | Actual/Modelled SCR Catalyst NH3 Storage B |
| 0x96.1 | Hydrocarbon Doser Flow Rate |
| 0x96.2 | Hydrocarbon Doser Injector Duty Cycle |
| 0x96.3 | Aftertreatment Fuel Pressure |
| 0x97.1 | NOx Mass Emission Rate - Engine Out |
| 0x97.2 | NOx Mass Emission Rate - Tailpipe |
| 0x98.1 | Exhaust gas temperature bank 1, sensor 5 |
| 0x98.2 | Exhaust gas temperature bank 1, sensor 6 |
| 0x98.3 | Exhaust gas temperature bank 1, sensor 7 |
| 0x98.4 | Exhaust gas temperature bank 1, sensor 8 |
| 0x99.1 | Exhaust gas temperature bank 2, sensor 5 |
| 0x99.2 | Exhaust gas temperature bank 2, sensor 6 |
| 0x99.3 | Exhaust gas temperature bank 2, sensor 7 |
| 0x99.4 | Exhaust gas temperature bank 2, sensor 8 |
| 0x9A.1 | Hybrid/EV Charging State |
| 0x9A.2 | Enhanced Hybrid/EV Charging State |
| 0x9A.3 | Hybrid/EV Battery System Voltage |
| 0x9A.4 | Hybrid/EV Battery System Current |
| 0x9B.1 | DEF Concentration |
| 0x9B.2 | DEF Tank Temperature |
| 0x9B.3 | DEF Tank Level |
| 0x9B.4 | DEF Type |
| 0x9C.1 | O2 sensor concentration bank 1 sensor 3 |
| 0x9C.2 | O2 sensor concentration bank 1 sensor 4 |
| 0x9C.3 | O2 sensor concentration bank 2 sensor 3 |
| 0x9C.4 | O2 sensor concentration bank 2 sensor 4 |
| 0x9C.5 | O2 sensor lambda bank 1 sensor 3 |
| 0x9C.6 | O2 sensor lambda bank 1 sensor 4 |
| 0x9C.7 | O2 sensor lambda bank 2 sensor 3 |
| 0x9C.8 | O2 sensor lambda bank 2 sensor 4 |
| 0x9D | Engine Fuel Rate |
| 0x9D.1 | Vehicle Fuel Rate |
| 0x9E | Engine Exhaust Flow Rate |
| 0x9F.1 | Fuel System A Use Percentage Bank 1 |
| 0x9F.2 | Fuel System B Use Percentage Bank 1 |
| 0x9F.3 | Fuel System A Use Percentage Bank 2 |
| 0x9F.4 | Fuel System B Use Percentage Bank 2 |
| 0x9F.5 | Fuel System A Use Percentage Bank 3 |
| 0x9F.6 | Fuel System B Use Percentage Bank 3 |
| 0x9F.7 | Fuel System A Use Percentage Bank 4 |
| 0x9F.8 | Fuel System B Use Percentage Bank 4 |
| 0xA0 | Supported PIDs 0xA1 to 0xBF |
| 0xA1.1 | NOx Sensor Corrected Concentration Bank 1 Sensor 1 |
| 0xA1.2 | NOx Sensor Corrected Concentration Bank 1 Sensor 2 |
| 0xA1.3 | NOx Sensor Corrected Concentration Bank 2 Sensor 1 |
| 0xA1.4 | NOx Sensor Corrected Concentration Bank 2 Sensor 2 |
| 0xA2 | Cylinder Fuel Rate |
| 0xA3.1 | Evap System Vapor Pressure A |
| 0xA3.2 | Evap System Vapor Pressure A (wide range) |
| 0xA3.3 | Evap System Vapor Pressure B |
| 0xA3.4 | Evap System Vapor Pressure B (wide range) |
| 0xA3.5 | Evap System Sealing Status |
| 0xA4.1 | Transmission Actual Gear Status |
| 0xA4.2 | Transmission Actual Gear Ratio |
| 0xA5.1 | Commanded DEF Dosing |
| 0xA5.2 | DEF Usage for the Current Driving Cycle |
| 0xA6 | Vehicle Odometer Reading |
| 0xA7.1 | NOx Sensor Concentration Bank 1 Sensor 3 |
| 0xA7.2 | NOx Sensor Concentration Bank 1 Sensor 4 |
| 0xA7.3 | NOx Sensor Concentration Bank 2 Sensor 3 |
| 0xA7.4 | NOx Sensor Concentration Bank 2 Sensor 4 |
| 0xA8.1 | NOx Sensor Corrected Concentration Bank 1 Sensor 3 Corrected |
| 0xA8.2 | NOx Sensor Corrected Concentration Bank 1 Sensor 4 Corrected |
| 0xA8.3 | NOx Sensor Corrected Concentration Bank 2 Sensor 3 Corrected |
| 0xA8.4 | NOx Sensor Corrected Concentration Bank 2 Sensor 4 Corrected |
| 0xA9.1 | Motorcycle ABS Disable Switch State |
| 0xAA | Maximum Current Vehicle Speed Limit |
| 0xAB.1 | Alternative Fuel Rail Pressure |
| 0xAB.2 | Alternative Fuel Rail Temperature |
| 0xAB.3 | Alternative Fuel Tank Pressure |
| 0xAB.4 | Alternative Fuel Tank Pressure (Wide Range) |
| 0xAB.5 | Alternative Fuel Tank Temperature |
| 0xAC.1 | DEF Dosing Mode |
| 0xAC.2 | Maximum DEF Dosing Rate |
| 0xAD.1 | Crankcase Pressure Sensor |
| 0xAD.2 | Centrifugal Crankcase Oil Separator RPM |
| 0xAE.1 | EVAP System Purge Pressure Sensor |
| 0xAE.2 | EVAP System Purge Pressure Sensor (wide range) |
| 0xAF | Commanded/Target Fresh Air Flow |
| 0xB0.1 | EGR Mass Flow Rate A |
| 0xB0.2 | EGR Mass Flow Rate B |
| 0xB1.1 | Fuel System Status Bank 1 |
| 0xB1.2 | Fuel System Status Bank 2 |
| 0xB1.3 | Short Term Fuel Trim Bank 1 |
| 0xB1.4 | Long Term Fuel Trim Bank 1 |
| 0xB1.5 | Short Term Fuel Trim Bank 2 |
| 0xB1.6 | Long Term Fuel Trim Bank 2 |
| 0xB2 | Traction Battery Pack State of Health |
| 0xB3.1 | HVESS Actual Charge Rate |
| 0xB3.2 | HVESPA Actual Charge Rate |
| 0xB3.3 | HVESPB Actual Charge Rate |
| 0xB3.4 | HVESPC Actual Charge Rate |
| 0xB3.5 | HVESPD Actual Charge Rate |
| 0xB3.6 | HVESPE Actual Charge Rate |
| 0xB3.7 | HVESPF Actual Charge Rate |
| 0xB3.8 | HVESPG Actual Charge Rate |
| 0xB3.9 | HVESPH Actual Charge Rate |
| 0xB4.1 | HVESS Temperature |
| 0xB4.2 | HVESPA Temperature |
| 0xB4.3 | HVESPB Temperature |
| 0xB4.4 | HVESPC Temperature |
| 0xB4.5 | HVESPD Temperature |
| 0xB4.6 | HVESPE Temperature |
| 0xB4.7 | HVESPF Temperature |
| 0xB4.8 | HVESPG Temperature |
| 0xB4.9 | HVESPH Temperature |
| 0xB5.1 | HVESS Current |
| 0xB5.2 | HVESPA Current |
| 0xB5.3 | HVESPB Current |
| 0xB5.4 | HVESPC Current |
| 0xB5.5 | HVESPD Current |
| 0xB5.6 | HVESPE Current |
| 0xB5.7 | HVESPF Current |
| 0xB5.8 | HVESPG Current |
| 0xB5.9 | HVESPH Current |
| 0xB6.1 | HVESS Voltage Level |
| 0xB6.2 | HVESPA Voltage Level |
| 0xB6.3 | HVESPB Voltage Level |
| 0xB6.4 | HVESPC Voltage Level |
| 0xB6.5 | HVESPD Voltage Level |
| 0xB6.6 | HVESPE Voltage Level |
| 0xB6.7 | HVESPF Voltage Level |
| 0xB6.8 | HVESPG Voltage Level |
| 0xB6.9 | HVESPH Voltage Level |
| 0xB7.1 | Hybrid/EV Battery Min Cell Temperature |
| 0xB7.2 | Hybrid/EV Battery Max Cell Temperature |
| 0xB7.3 | Hybrid/EV Battery Average Cell Temperature |
| 0xB7.4 | Hybrid/EV Battery Bus Bar Temperature |
| 0xB7.5 | Hybrid/EV Battery Coolant Temperature |
| 0xB7.6 | Hybrid/EV Battery ESS Thermal State |
| 0xB8 | Hybrid/EV Battery High Voltage System Active Time Since Last Cell Balancing Complete |
| 0xB9 | Hybrid/EV Battery Min Cell Voltage |
| 0xB9.1 | Hybrid/EV Battery Max Cell Voltage |
| 0xBA | Hybrid/EV Battery Continuous Rated Power Available |
| 0xBA.1 | Hybrid/EV Battery Continuous Charge Current Limit |
| 0xBA.2 | Hybrid/EV Battery Continuous Discharge Current Limit |
| 0xBB.1 | Cumulative Energy into High Voltage Energy Storage System |
| 0xBB.2 | Cumulative Energy into High Voltage Energy Storage Pack A |
| 0xBB.3 | Cumulative Energy into High Voltage Energy Storage Pack B |
| 0xBB.4 | Cumulative Energy into High Voltage Energy Storage Pack C |
| 0xBB.5 | Cumulative Energy into High Voltage Energy Storage Pack D |
| 0xBB.6 | Cumulative Energy into High Voltage Energy Storage Pack E |
| 0xBB.7 | Cumulative Energy into High Voltage Energy Storage Pack F |
| 0xBB.8 | Cumulative Energy into High Voltage Energy Storage Pack G |
| 0xBB.9 | Cumulative Energy into High Voltage Energy Storage Pack H |
| 0xBC.1 | Cumulative Energy from High Voltage Energy Storage System |
| 0xBC.2 | Cumulative Energy from High Voltage Energy Storage Pack A |
| 0xBC.3 | Cumulative Energy from High Voltage Energy Storage Pack B |
| 0xBC.4 | Cumulative Energy from High Voltage Energy Storage Pack C |
| 0xBC.5 | Cumulative Energy from High Voltage Energy Storage Pack D |
| 0xBC.6 | Cumulative Energy from High Voltage Energy Storage Pack E |
| 0xBC.7 | Cumulative Energy from High Voltage Energy Storage Pack F |
| 0xBC.8 | Cumulative Energy from High Voltage Energy Storage Pack G |
| 0xBC.9 | Cumulative Energy from High Voltage Energy Storage Pack H |
| 0xBD.1 | HVESS Total Energy Throughput |
| 0xBD.2 | HVESPA Total Energy Throughput |
| 0xBD.3 | HVESPB Total Energy Throughput |
| 0xBD.4 | HVESPC Total Energy Throughput |
| 0xBD.5 | HVESPD Total Energy Throughput |
| 0xBD.6 | HVESPE Total Energy Throughput |
| 0xBD.7 | HVESPF Total Energy Throughput |
| 0xBD.8 | HVESPG Total Energy Throughput |
| 0xBD.9 | HVESPH Total Energy Throughput |
| 0xBE.1 | HVESS State of Health |
| 0xBE.2 | HVESPA State of Health |
| 0xBE.3 | HVESPB State of Health |
| 0xBE.4 | HVESPC State of Health |
| 0xBE.5 | HVESPD State of Health |
| 0xBE.6 | HVESPE State of Health |
| 0xBE.7 | HVESPF State of Health |
| 0xBE.8 | HVESPG State of Health |
| 0xBE.9 | HVESPH State of Health |
| 0xBF.1 | HVESS Recommended Minimum State Of Charge |
| 0xBF.2 | HVESPA Recommended Minimum State Of Charge |
| 0xBF.3 | HVESPB Recommended Minimum State Of Charge |
| 0xBF.4 | HVESPC Recommended Minimum State Of Charge |
| 0xBF.5 | HVESPD Recommended Minimum State Of Charge |
| 0xBF.6 | HVESPE Recommended Minimum State Of Charge |
| 0xBF.7 | HVESPF Recommended Minimum State Of Charge |
| 0xBF.8 | HVESPG Recommended Minimum State Of Charge |
| 0xBF.9 | HVESPH Recommended Minimum State Of Charge |
| 0xC0 | Supported PIDs 0xC1 to 0xDF |
| 0xC1.1 | HVESS Recommended Maximum State Of Charge |
| 0xC1.2 | HVESPA Recommended Maximum State Of Charge |
| 0xC1.3 | HVESPB Recommended Maximum State Of Charge |
| 0xC1.4 | HVESPC Recommended Maximum State Of Charge |
| 0xC1.5 | HVESPD Recommended Maximum State Of Charge |
| 0xC1.6 | HVESPE Recommended Maximum State Of Charge |
| 0xC1.7 | HVESPF Recommended Maximum State Of Charge |
| 0xC1.8 | HVESPG Recommended Maximum State Of Charge |
| 0xC1.9 | HVESPH Recommended Maximum State Of Charge |
| 0xC2.1 | HVESS Discharge Energy Capacity |
| 0xC2.2 | HVESPA Discharge Energy Capacity |
| 0xC2.3 | HVESPB Discharge Energy Capacity |
| 0xC2.4 | HVESPC Discharge Energy Capacity |
| 0xC2.5 | HVESPD Discharge Energy Capacity |
| 0xC2.6 | HVESPE Discharge Energy Capacity |
| 0xC2.7 | HVESPF Discharge Energy Capacity |
| 0xC2.8 | HVESPG Discharge Energy Capacity |
| 0xC2.9 | HVESPH Discharge Energy Capacity |
| 0xC3.1 | Fuel Level Input A |
| 0xC3.2 | Fuel Level Input B |
| 0xC4 | Exhaust Particulate Control System Diagnostic Time |
| 0xC4.1 | Exhaust Particulate Control System Diagnostic Count |
| 0xC5.1 | Fuel Pressure A |
| 0xC5.2 | Fuel Pressure B |
| 0xC6.1 | Particulate Warning System Activation Status |
| 0xC6.2 | Particulate Level 1 Inducement Status |
| 0xC6.3 | Particulate Level 2 Inducement Status |
| 0xC6.4 | Particulate Level 3 Inducement Status |
| 0xC6.5 | Removal or Block of the Particulate Aftertreatment System Counter |
| 0xC6.6 | Liquid Reagent Injection System (e.g. fuel-borne catalyst) Failure Counter |
| 0xC6.7 | Malfunction of Particulate Control Monitoring System Counter |
| 0xC8 | Warning Lamp Status for NOx Control Diagnostic and Particulate Control Diagnostic |
| 0xC8.1 | NOx Control Diagnostic Warning Lamp Status |
| 0xC8.2 | Particulate Control Diagnostic Warning Lamp Status |
| 0xC9.1 | O2 Sensor Concentration Bank 1 Sensor 5 |
| 0xC9.2 | O2 Sensor Concentration Bank 1 Sensor 6 |
| 0xC9.3 | O2 Sensor Concentration Bank 2 Sensor 5 |
| 0xC9.4 | O2 Sensor Concentration Bank 2 Sensor 6 |
| 0xC9.5 | O2 Sensor Lambda Bank 1 Sensor 5 |
| 0xC9.6 | O2 Sensor Lambda Bank 1 Sensor 6 |
| 0xC9.7 | O2 Sensor Lambda Bank 2 Sensor 5 |
| 0xC9.8 | O2 Sensor Lambda Bank 2 Sensor 6 |
| 0xCA.1 | Time to Level 1 Inducement System |
| 0xCA.2 | Time to Level 2 Inducement System |
| 0xCA.3 | Time to Level 3 Inducement System |
| 0xCB.1 | Exhaust Pressure Sensor Bank 1 Sensor 2 |
| 0xCB.2 | Exhaust Pressure Sensor Bank 2 Sensor 2 |
| 0xCC.1 | Electric Motor A RPM |
| 0xCC.2 | Electric Motor B RPM |
| 0xCC.3 | Electric Motor C RPM |
| 0xCC.4 | Electric Motor D RPM |
| 0xCC.5 | Electric Motor E RPM |
| 0xCC.6 | Electric Motor F RPM |
| 0xCC.7 | Electric Motor G RPM |
| 0xCC.8 | Electric Motor H RPM |
| 0xCD.1 | Electric Motor A Torque |
| 0xCD.2 | Electric Motor B Torque |
| 0xCD.3 | Electric Motor C Torque |
| 0xCD.4 | Electric Motor D Torque |
| 0xCD.5 | Electric Motor E Torque |
| 0xCD.6 | Electric Motor F Torque |
| 0xCD.7 | Electric Motor G Torque |
| 0xCD.8 | Electric Motor H Torque |
| 0xCE.1 | Evap System Vapor Pressure C |
| 0xCE.2 | Evap System Vapor Pressure C (wide range) |
| 0xCE.3 | Evap System Vapor Pressure D |
| 0xCE.4 | Evap System Vapor Pressure D (wide range) |
| 0xCF.1 | Catalyst Temperature A |
| 0xCF.2 | Catalyst Temperature B |
| 0xCF.3 | Catalyst Temperature C |
| 0xCF.4 | Catalyst Temperature D |
| 0xD0.1 | Distance Since Last SOH Update |
| 0xD0.2 | Remaining Energy Storage System Reserve Energy |
| 0xD0.3 | Initial Energy Storage System Reserve Energy |
| 0xD1 | Energy Storage System Actual Charging Limit |
| 0xD1.1 | Energy Storage System Actual Charging Power |
| 0xD2.1 | State of certified energy |
| 0xD2.2 | State of certified range |
| 0xD3 | Engine Odometer Reading |
| 0xD4 | High Voltage Battery Pack Cumulative Energy During One Second |
| 0xD5.1 | Fuel cell system voltage |
| 0xD5.2 | Fuel Cell Fuel Consumed During One Second |
| 0xD5.3 | Fuel Cell Cumulative Current During One Second |
| 0xD5.4 | Fuel Cell Cumulative Energy During One Second |
| 0xD6 | Number of propulsion system active trips since fault memory last cleared |
| 0xD7.1 | Commanded DEF Dosing - Doser B |
| 0xD7.2 | DEF Dosing Mode - Doser B |
| 0xD7.3 | Maximum DEF Dosing Rate - Doser B |
| 0xD8 | Battery Capacity Calculation Ready |
| 0xD9 | Calculated Energy Storage System Energy |
| 0xDA | High Voltage Battery Pack Cumulative Current During One Second |
| 0xE0 | Supported PIDs 0xE1 to 0xFF |
| 0x100 | Supported PIDs 0x101 to 0x11F |
| 0x101 | I/M Readiness Data |
| 0x102.1 | Misfire cylinder 1 counts for last/current driving cycles |
| 0x102.2 | Misfire cylinder 2 counts for last/current driving cycles |
| 0x102.3 | Misfire cylinder 3 counts for last/current driving cycles |
| 0x102.4 | Misfire cylinder 4 counts for last/current driving cycles |
| 0x102.5 | Misfire cylinder 5 counts for last/current driving cycles |
| 0x102.6 | Misfire cylinder 6 counts for last/current driving cycles |
| 0x102.7 | Misfire cylinder 7 counts for last/current driving cycles |
| 0x102.8 | Misfire cylinder 8 counts for last/current driving cycles |
| 0x103.1 | Misfire cylinder 9 counts for last/current driving cycles |
| 0x103.2 | Misfire cylinder 10 counts for last/current driving cycles |
| 0x103.3 | Misfire cylinder 11 counts for last/current driving cycles |
| 0x103.4 | Misfire cylinder 12 counts for last/current driving cycles |
| 0x103.5 | Misfire cylinder 13 counts for last/current driving cycles |
| 0x103.6 | Misfire cylinder 14 counts for last/current driving cycles |
| 0x103.7 | Misfire cylinder 15 counts for last/current driving cycles |
| 0x103.8 | Misfire cylinder 16 counts for last/current driving cycles |
| 0x104.1 | Misfire cylinder 1 counts 10 trip EWMA |
| 0x104.2 | Misfire cylinder 2 counts 10 trip EWMA |
| 0x104.3 | Misfire cylinder 3 counts 10 trip EWMA |
| 0x104.4 | Misfire cylinder 4 counts 10 trip EWMA |
| 0x104.5 | Misfire cylinder 5 counts 10 trip EWMA |
| 0x104.6 | Misfire cylinder 6 counts 10 trip EWMA |
| 0x104.7 | Misfire cylinder 7 counts 10 trip EWMA |
| 0x104.8 | Misfire cylinder 8 counts 10 trip EWMA |
| 0x105.1 | Misfire cylinder 9 counts 10 trip EWMA |
| 0x105.2 | Misfire cylinder 10 counts 10 trip EWMA |
| 0x105.3 | Misfire cylinder 11 counts 10 trip EWMA |
| 0x105.4 | Misfire cylinder 12 counts 10 trip EWMA |
| 0x105.5 | Misfire cylinder 13 counts 10 trip EWMA |
| 0x105.6 | Misfire cylinder 14 counts 10 trip EWMA |
| 0x105.7 | Misfire cylinder 15 counts 10 trip EWMA |
| 0x105.8 | Misfire cylinder 16 counts 10 trip EWMA |