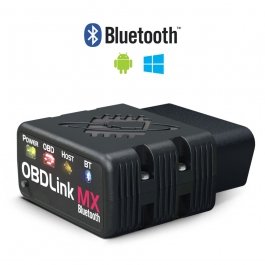 OBDLink MX is the first Bluetooth scan tool that can access SW CAN & MS CAN networks in addition to standard OBDII protocols. MX is up to 300% faster than the closest competitor. Thanks to MX's innovative BatterySaver™ technology, you can even leave MX plugged in without draining your battery when the engine is off.
Free OBDwiz software included!
This product is NOT compatible with the iPhone or iPad. Please see OBDLink MX+ if you want to use an iPhone or iPad.
Description
Up to 3x faster than the closest competitor – MX accelerates Apps by up to 250% and PC software by up to 300%. Experience faster screen updates and more graph points.
Supports SW CAN & MS CAN protocols – MX is the only scan tool in its class that can access these proprietary GM & Ford networks in addition to the 5 standard OBDII protocols.
Small form factor – At just under 2" long, OBDLink won't obstruct driver legroom.
Hack-Proof – Cutting-edge security scheme virtually eliminates the risk of unauthorized access.
BatterySaver Technology – MX's innovative sleep function lets you leave it plugged in without danger of draining your car's battery.
Read & Clear Check Engine light – Check diagnostic codes yourself and make informed repair decisions.
Works on PC's, Smart Phones, and Tablets – Turn your laptop, netbook, Android, or Symbian device into a sophisticated diagnostics tool and performance monitor. Not compatible with Apple products.
Free OBD2 Diagnostic Software - OBDwiz and OBDLink Android app are included free of charge!
Works on a wider range of vehicles – OBDLink's advanced algorithm enables MX to connect to more OBDII-compliant makes & models than any other scan tool.
Peace of Mind – Covered by a 3-year warranty & 90-day money-back guarantee.
Superior Compatibility – Works with more 3rd party apps & software than any other adapter.
Specifications
Legislated OBD protocols
---
ISO15765-4 (CAN)
ISO14230-4 (Keyword Protocol 2000)
ISO9141-2 (Asian, European, Chrysler vehicles)
J1850 VPW (GM vehicles)
J1850 PWM (Ford vehicles)
Additional OBD protocols
---
Single Wire CAN (GM)
Medium Speed CAN (Ford)
Operating Specifications
---
Dimensions: 1.97 x 1.77 x 0.91 inches (51 x 45 x 23 mm)
Weight: 1.2 oz. (33 g.)
Operating Voltage: 8-18V DC
Operating Temperature: -4º to 131º F (-20º to 55º C)
Operating Humidity 10 to 85% (non-condensing)
Package contents
---
OBDLink MX Bluetooth Adapter
Quick Start Guide
License key for OBDwiz software is provided when registering within OBDwiz
Vehicle Compatibility
OBDLink MX
works with all 1996 & newer model year cars and light trucks sold in the U.S., including all American, European, and Asian vehicles. Live outside the U.S.? Most newer non-U.S. vehicles are complaint with the OBDII standards.
Check here
to verify that OBDLink MX will work with your non-U.S. vehicle. If you have any doubts, we do offer a 90 day, no-hassle money-back guarantee!
Warranty
This product comes with an unconditional 90-day money-back guarantee and a 3 year warranty.