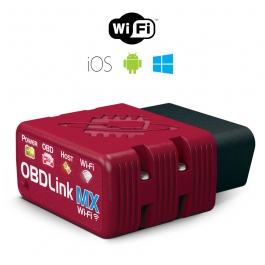 OBDLink MX Wi-Fi is the first Wi-Fi scan tool that can access SW CAN & MS CAN networks in addition to standard OBDII protocols. OBDLink MX Wi-Fi is designed to work on all iOS (iPhone/iPad/iPod), Android, and Windows products.
Free OBDwiz software included!
This product is no longer available and has been replaced by OBDLink MX+.
Description
Up to 4x faster than the closest competitor – Experience faster screen updates and smoother graphing.
Supports SW CAN & MS CAN protocols – MX is the only scan tool in its class that can access these proprietary GM & Ford networks in addition to the 5 standard OBDII protocols.
Extremely small form factor – At just under 2" long, OBDLink MX Wi-Fi won't obstruct driver legroom.
Strong Wi-Fi Security – Cutting-edge security scheme virtually eliminates the risk of unauthorized access.
BatterySaver Technology – MX's innovative sleep function lets you leave it plugged in without danger of draining your car's battery.
Read & Clear Check Engine light – Check diagnostic codes yourself and make informed repair decisions.
Works on PC's, Smart Phones, and Tablets – Turn your iPhone, iPad, netbook, Windows laptop, or Android device into a sophisticated diagnostics tool and performance monitor.
Free OBD2 Diagnostic Software - OBDwiz, OBDLink Android app and OBDLink iOS app are included free of charge!
Works on a wider range of vehicles – OBDLink's advanced algorithm enables MX to connect to more OBDII-compliant makes & models than any other scan tool.
Peace of Mind – Covered by a 3-year warranty & 90-day money-back guarantee.
Superior Compatibility – Works with more 3rd party apps & software than any other adapter.
Specifications
Legislated OBD protocols
---
ISO15765-4 (CAN)
ISO14230-4 (Keyword Protocol 2000)
ISO9141-2 (Asian, European, Chrysler vehicles)
J1850 VPW (GM vehicles)
J1850 PWM (Ford vehicles)
Additional OBD protocols
---
Single Wire CAN (GM)
Medium Speed CAN (Ford)
Operating Specifications
---
Dimensions: 1.97 x 1.77 x 0.91 inches (51 x 45 x 23 mm)
Weight: 1.2 oz. (33 g.)
Operating Voltage: 8-18V DC
Operating Temperature: -4º to 131º F (-20º to 55º C)
Operating Humidity 10 to 85% (non-condensing)
Package contents
---
OBDLink MX Wi-Fi Adapter
Quick Start Guide
License key for OBDwiz software is provided when registering within OBDwiz
Vehicle Compatibility
OBDLink MX WiFi
works with all 1996 & newer model year cars and light trucks sold in the U.S., including all American, European, and Asian vehicles. Live outside the U.S.? Most newer non-U.S. vehicles are complaint with the OBDII standards.
Check here
to verify that OBDLink MX WiFi will work with your non-U.S. vehicle. If you have any doubts, we do offer a 90 day, no-hassle money-back guarantee!
Warranty
This product comes with an unconditional 90-day money-back guarantee and a 3 year warranty.